Gaza Freedom March Ends--But Our Work of Ending Israeli Apartheid Continues!

Dear david,

The Gaza Freedom March is over, but our work of changing U.S. policy toward Israel/Palestine is more important now than ever!

Over 1,300 people from across the globe, including representatives of many US Campaign member groups, gathered in Cairo last week in an attempt to break the Israeli siege of the Gaza Strip. While the Egyptian government refused the Freedom Marchers access, they were still successful in bringing international attention to bear on the grim situation faced by the more than 1.5 million Palestinians living in Gaza a year after Israel's 22-day assault killed 1,400 people and caused more than $2 billion in infrastructural damage. Major media outlets including the New York Times, Associated Press, and Reuters covered the March--you can see a list of media coverage here, and also see compiled coverage, video, and on-the-ground reporting at the US Campaign blog. 

In addition, solidarity actions were organized around the world, including in Tel Aviv, at the Erez Crossing between Israel and the Gaza Strip, and across the United States. See report backs from the solidarity actions here, and check out photos and videos of actions organized by US Campaign member groups here. 

Meanwhile, a concurrent effort to break the siege of Gaza--the Vivia Palestina humanitarian aid convoy led by British MP George Galloway--also met with stiff resistance from the the Egyptian government, at one point facing off against 2,000 riot police in the port of Al-Arish. On Wednesday, January 6, the Viva Palestinian covoy succeeded in entering Gaza. Click here to see Amy Goodman of Democracy Now! interviewing Galloway about the situation.

Before leaving Cairo, participants in the Gaza Freedom March issued the Cairo Declaration to End Israeli Apartheid. Recognizing the continuing violations of Palestinian human rights and international law due to Israeli occupation and apartheid, the Cairo Declaration calls for a global anti-apartheid movement within the framework of the Palestinian civil society call for boycott, divestment, and sanctions (BDS). 

If this sounds familiar, it's because the US Campaign to End the Israeli Occupation has already been hard at work challenging Israeli apartheid, organizing national BDS campaigns, and working to challenge U.S. policy toward Israel/Palestine to promote human rights, international law, and equality for all. We've been providing action alerts, resources for action in your community, organizing kits, networking tools, and more. Click here to see how our ongoing campaigns fit into the movement for justice and accountability for the victims of Israel's siege of the Gaza Strip--and learn how you can participate. And remember that there's more to the Israeli occupation and apartheid than the siege of the Gaza Strip.


Check out the rest of this week's edition of Occupation End Notes for resources, news, member group updates, organizing tools, and more. If you have a resource or an update you'd like to see included in Occupation End Notes, click here to email us. If you'd like to support the important work of the US Campaign to End the Israeli Occupation, the largest and most diverse coalition of organizations and organizers working to challenge U.S. policy toward Israel/Palestine, click here. Your support makes this important work possible!

In solidarity,

US Campaign National Office Staff

In This Edition

Welcome Shakeel Syed to Our Steering Committee


Free the Anti-Apartheid Prisoners


Grassroots Advocacy Training and Lobby Day


New Posts on the US Campaign Blog


Israeli Army Attacks Palestinians and US Member Group Reps


US Campaign Member Groups Remember Gaza


More than 500 Endorse Academic and Cultural Boycott


Israeli Apartheid Video Contest

Delegations to Israel/Palestine


Support Our Work:


Join the Olive
Branch Club:

---
* US Campaign Welcomes Shakeel Syed to Steering Committee
A very warm welcome to Shakeel Syed, the newest member of the US Campaign Steering Committee, who was appointed to fill a vacancy on the Steering Committee until the next National Organizers' Conference.
Shakeel Syed is the Executive Director of the Islamic Shura Council, a federation of mosques and Muslim organizations serving more than half a million Muslims in Southern California. Additionally, Shakeel serves on the boards of several social justice organizations, such as ACLU-Southern California, Clergy & Laity United for Economic Justice (CLUE), and Interfaith Communities United for Justice & Peace (ICUJP), among others. He also serves as a Volunteer Chaplain with the Federal Bureau of Prisons.
Syed has appeared on national and international media outlets and has also written and been cited in a number of local, national and international newspapers. He has received several awards including a "Community Leadership Award" from Orange County Human Relations and "Giants of Justice Award" from Clergy & Laity United for Economic Justice. He has a Masters in Natural Sciences and has been living in Southern California for over two decades with his wife and four children.
---
* Last Chance to Intern with the US Campaign in Spring 2010

We still have intern spots available for the spring semester of 2010! Interns will need to be able to work 10-30 hours a week under supervision of the US Campaign staff in our D.C. office.
We are especially in need of interns with graphic design and tech skills and experience creating and managing php-based and Drupal websites.
For more information and to download an application click here.
---
* Free the Anti-Apartheid Prisoners! Fight Israel's Latest Campaign of Repression!
In a New Year's Day op-ed in the New York Times, rockstar Bono declared his desire for the Palestinians to discover "their Gandhi." Well, we found several Palestinian Gandhis...in Israeli jail. Recently, Israel has been increasing its repression of nonviolent activists for Palestinian human rights, especially those involved in promoting boycott, divestment, and sanctions campaigns. Three Palestinian civil society leaders--Jamal Juma', Coordinator of the Stop the Wall campaign; Abdallah Abu Rahmah, a leader in the West Bank village of Bil'in's struggle against the Apartheid Wall; and Mohammad Othman, who was arrested by the Israeli military after returning from Norway where he presented on divestment from Apartheid Wall-builder and Israeli weapons contractor Elbit Systems--have joined the ranks of those being held without trial for their nonviolent resistance to Israeli occupation and apartheid. Click here to learn more, and click here to have the United States demand the release of these nonviolent activists by sending an email to the U.S. Consul General in East Jerusalem, Daniel Rubinstein. You can find out more by visiting the website of our allies at Stop the Wall, or by following them on Twitter.

There's more that can be done in your own community to fight Israel's latest campaign of repression. Palestinian BDS campaign leader and US Campaign conference speaker Omar Barghouti proposes that "Appeals to the Israeli authorities to respect due legal process or release Jamal should not be the only form of protest over this gross violation of Palestinian rights. Intensifying BDS, ultimately, is the most consequential form of protest." US Campaign Advisory Board member Nadia Hijab points out the important connections between the arrest of the anti-Wall activists and the success of the international BDS movement. And writing from prison, Abdallah Abu Rahmah commits to continuing the struggle and commends supporters who "amplified our popular demonstrations in Palestine with international boycott campaigns and international legal actions under universal jurisdiction." To find out how you can amplify the efforts of Palestinian civil society by engaging in campaigns of boycott and divestment, wherever you are, click here.
---
 Join Us in Washington, D.C. for Grassroots Advocacy Training and Lobby Days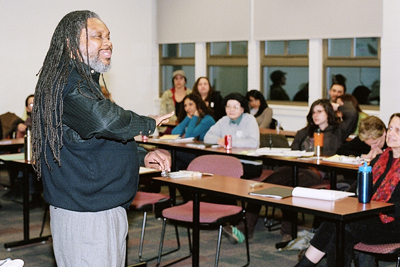 For the second year in a row, the US Campaign is teaming up with member group Interfaith Peace-Builders to organize Grassroots Advocacy Training and Lobby Days in Washington, D.C. Join us on March 7-8, 2010, to network, gain important skills, and make an impact in the halls of Congress. Workshops will provide essential skills on current topics of interest for US-based activists. Experienced leaders and experts will facilitate sessions addressing topics such as United States Policy and the Israeli-Palestinian Conflict; Engaging Elected Officials for an End to Military Aid and a Just Foreign Policy; Broadening the Discourse: Making Change in Your Local Media; Coalition Building; and other subjects essential to seasoned activists and beginners alike. Learn more and find out how to register by clicking here.
---
* Representative Baird Wants to Cut Aid to Israel (and more on the US Campaign Blog)!
There is all sorts of great new content on the US Campaign blog, including video of an Al Jazeera interview with Reps. Brian Baird and Keith Ellison in which Baird argues that U.S. aid to Israel should be linked to the end of the Gaza siege; updates and member group report backs from the Gaza Freedom March; our response to Bono's recent New York Times op-ed that made us wonder why the U-2 frontman has never heard of Jamal Juma' or the village of Bil'in; updates on the anti-apartheid prisoners; an article written by Israeli filmmaker Udi Aloni explaining why he supports BDS against Israeli occupation; and much more. Check it out by clicking here. 
---
* Member Groups, Member Groups, Everywhere!

In an effort to better help our coalition members network and for us to better gauge the coalition's regional diversity, we have put together a map with our more than 320 coalition members represented by state. Don't see your member group listed? Click here to join the US Campaign. Click here to check if your member group is in good standing with the US Campaign.
---
* Vigils, Film Screenings, and Other Events in a Community near You

Want to know what's happening in your community to promote human rights and international law in U.S. policy toward Israel/Palestine? Check out the US Campaign's online event calendar by clicking here. If you are planning an event--a vigil, a march, a teach-in, a film screening, an action, or anything else--you can publicize your event on our website by clicking here.
---
* Israeli Army Attacks Palestinian Shepherds, US Campaign Member Group Reps in West Bank
On the morning of Thursday, January 7, 2010, Israeli soldiers attacked and injured Palestinian shepherds from the Musa Raba'i family, as they grazed their sheep in Humra valley, near the village of At-Tuwani in the South Hebron Hills. The soldiers also attacked the two members of US Campaign member group Christian Peacemaker Teams who were accompanying the shepherds and broke a video camera. Before leaving the area the soldiers arrested one of the shepherds, Musab Musa Raba'i. To read more and take action against human rights abuses committed by the U.S.-funded Israeli army, click here.
---
* US Campaign Member Groups Won't Let the World Forget Gaza
We've already mentioned all the participation of US Campaign member groups in the Gaza Freedom March and in solidarity actions in the United States--including member group Alaskans for Palestine, which held a solidarity action in 8 degree weather! If you're a representative of a US Campaign member group and you have photos, video, or a report-back that you'd like to share, click here to email us.
Representatives of US Campaign member group Christian Peacemaker Teams (CPT) participated in the march on the Israeli side of the Erez Crossing into Gaza. You can read a report back and see video from CPTer Sam Nichols here.
And two representatives of US Campaign member groups--Linda Frank of North West Middle East Peace Forum and Medea Benjamin of Global Exchange had articles about Gaza published in the Huffington Post. Click here to read more.
---
* More than 500 Academics and Cultural Figures Endorse Cultural and Academic Boycott of Israel

The US Campaign for the Academic and Cultural Boycott of Israel (USACBI), a member group of the US Campaign to End the Israeli Occupation, has released a list of more than 500 academics and cultural workers who have endorsed its boycott call. Academic endorsers include postcolonial critics and transnational feminists Chandra Talpade Mohanty and Gayatri Chakravorty Spivak, Indigenous scholars J. Kēhaulani Kauanui and Andrea Smith, philosopher Judith Butler, Black studies scholars Cedric Robinson, Fred Moten, evolutionary biologist Robert Trivers, and intellectual historian Joseph Massad. Cultural figures who have endorsed the boycott include author Barbara Ehrenreich, Electronic Intifada founder Ali Abunimah, poets Adrienne Rich and Lisa Suhair Majjaj, ISM co-founder and documentary film-maker Adam Shapiro, Jordan Flaherty of Left Turn Magazine, and Adrienne Maree Brown of the Ruckus Society. To read more, click here. Find out how you can endorse USACBI's boycott call here, and see a full list of endorsers here.

---
* Submissions Needed for Israeli Apartheid Video Contest
US Campaign member group Itisapartheid.org, in partnership with Stop the Wall, announces the first international Israeli Apartheid Film Festival. Film submissions need to be less than 5 minutes and must depict the nature, realities, and/or consequences of Israel's apartheid policies. Films, which may be in any format, must be submitted by June 20, 2010.
For more information, visit the Israeli Apartheid Video Contest website by clicking here.
---
* Opportunities to Visit Israel/Palestine for Education and Solidarity
Want to visit Israel/Palestine for education and solidarity? Check out the many opportunities to visit Israel/Palestine with US Campaign member groups and allies by clicking here.

---
* How You Can Sustain the US Campaign--Donate Today!


Has this edition of Occupation End Notes been useful to you? Would you like to continue to benefit from action alerts, online event posting, national organizing tours, resources for local organizers, national days of action, and grassroots advocacy trainings? Providing all of these resources for organizers isn't free. It take staff time, printing costs, phone bills, and more.

If you, like thousands of other committed activists, find these resources vital for your organizing, make a tax-deductible donation to our ongoing work by donating online, donating office supplies and services, or commit to monthly giving by joining the Olive Branch Club.
Click here for more information, and join our Facebook Cause by clicking here.
---

Back to top

Occupation End Notes is the US Campaign bi-weekly newsletter, designed as a tool for activists. For this newsletter to be successful, we need your participation. Use us to promote events, give feedback on recent actions, recommend resources, or just learn from other activists in the movement. If you or your organization is planning an event or you have information for the Newsletter, please contact the US Campaign by emailing us here.

The US Campaign aims to change U.S. policies that sustain Israel's 42-year occupation of the Palestinian West Bank, Gaza Strip and East Jerusalem, and that deny equal rights for all.
---
ABOUT | TAKE ACTION | GET INVOLVED | STORE | DONATE | RESOURCES | MEDIA | SUBSCRIBE |UNSUBSCRIBE

US CAMPAIGN TO END THE ISRAELI OCCUPATION | PO BOX 21539 | WASHINGTON, DC 20009
202-332-0994 | USCAMPAIGN@ENDTHEOCCUPATION.ORG | WWW.ENDTHEOCCUPATION.ORG